About Us
Elsa Barnard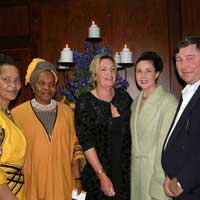 Elsa grew up in Munich where she studied fashion and textile design. She immigrated to South Africa IN 1970 and has been designing mohair carpets, blankets curtaining and knitwear with her former husband Jan-Paul Barnard. She took over the carpet factory in 2001 when she formed a close corporation and made Selina Radebe a partner in the business. Elsa lives in Kenton on Sea.
Our Carpets
For 46 years our mohair carpets have been woven in Dimbaza in the Eastern Cape. The tradition of weaving excellence is being honoured by dedicated staff many of whom have been with the enterprise since it's inception in 1975.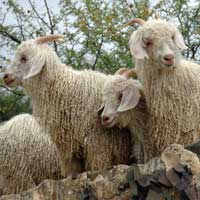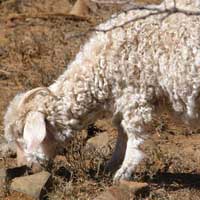 • What is Mohair?
Mohair is the fleece of the delicate angora goat. A rare and luxurious fibre, once zealously guarded by the sultan of Turkey, it is unrivaled for it's beauty, it's silky texture and its durability. Today South Africa is the largest producer of this luxurious fibre and mohair growers can be found within a 300 km radius from Port Elizabeth, the centre of the mohair industry. This resilient fibre is ideally suited for the manufacturing of carpets . They are hard wearing, long lasting and they retain their shape and texture after many years of wear.
• The manufacturing process:
Strong adult mohair is bought from the auction in Port Elizabeth, the centre of the mohair industry. At our factory in Dimbaza, 260 km north of Port Elizabeth near King Williamstown. the mohair is scoured and carded and hand-spun into a textured, slightly irregular yarn.
The dyeing is done in stainless steel vats which are heated up using fire wood supplied by rural vendors. The Lanaset dyes from Switzerland are of the highest standard in colour fastness, brilliance and hues.The dyed yarn is allow to dry in the sun. Mohair dyes beautifully because of the natural sheen of the fibre.
Selina Radebe, the factory manager , then prepares the work for the weaving. Each loom is allocated it's design and colours according to orders received. The weavers work on unique upright broad looms designed and built by Jan-Paul Barnard.These looms are warped with 20 ply poly cotton designed for tight strong weave, straight edges and excellent size control.
After the carpets are woven they are cut off the loom and literally shorn with a pair of sheep shears. The edges are straightened and the ends knotted off and tasseled .Nomalizo dispatches the rugs and keeps a colour yarn record of every carpet made which enables us to match a carpets years afterwards. The hand-woven technique allows the carpet to be used on both sides, they are exactly the same.